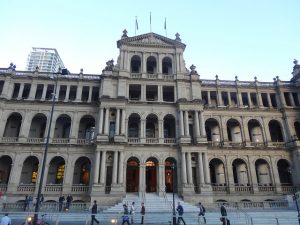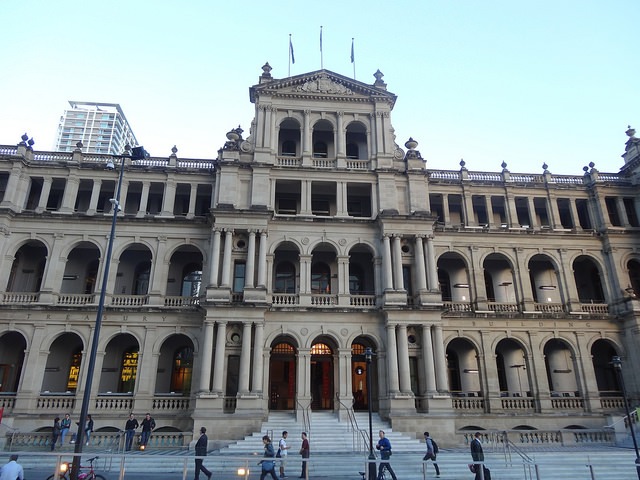 An excellent hotel for staying at when on a visit to Brisbane, Australia is the iconic Treasury Casino, located at 130 William Street, Brisbane. In 1992 the grandiose old building housing the hotel was listed on the Queensland Heritage Register in order to preserve its old classic architecture. Visitors staying at the hotel have the opportunity to experience all the modern comforts that a five star hotel offers, together with the magical charm of a bygone era.
Situated in a convenient position for people who want to do some shopping, the hotel is near to the Brisbane Arcade which is one of the oldest arcades in Brisbane or they can visit the other popular shopping areas of the Queens Plaza or the Queen Street Mall. The Treasury building occupies an entire block besides William Street. It is surrounded by Queen Street, George Street, and Elizabeth Street.
In 1995 the building became the Conrad Treasury Casino, going through a transformation from a once political building refurbished to now become a hotel and a centre of entertainment. Amongst its features are two bars, five restaurants and eight function rooms. Every night there is live entertainment varying from comedy shows, individual musicians, bands, and dancing shows and every Monday at 1pm and at 7pm there is a Mah-jong tournament to which entry is free, and on Mother's Day a traditional High Tea is served at the Marco Polo which is on level 2. The Treasury Casino is also host to the annual Groove and Grape Festival.
The Casino boasts three levels of eighty gaming tables and thirteen hundred gaming machines.
History of the Treasury Building
At the turn of the last century many celebrations and displays of patriotism were held at the Treasury Building where the Queensland Government Cabinet met. Before the Treasury Building was built, there was a double story military barracks occupying the site. Visitors to Brisbane will be interested to learn that in 1901 the then governor of Queensland read the proclamation of the federation of the Australian Commonwealth from a balcony on the William Street side of the building.
The building of The Treasury between 1886 and 1928 was done in three stages. During the first stage the frontages of the William Street as well as part of the Queen Street were erected, this took until September 1889. This new Government building became occupied by the Premier along with the Colonial Secretary, Treasury, Mines, Police, Registrar-General and Auditor-General.
The Elizabeth Street section that was stage two was then begun and completed in February 1893. The Registrar of Titles, Justice, Works, Public Instruction and the States Savings Bank all moved into this part of the building.
The last stage began in 1922 and completed in 1928, this gave extra space for the then occupants of the Treasury Building. A five story annex was added in the courtyard during 1961.