Chief Balloon Pilot – Balloon Pilot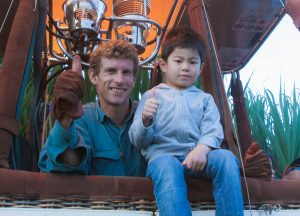 "Being a Hot Air Balloon Pilot is the coolest career around."
Balloons Over Brisbane's Chief Pilot has been flying hot air balloons for many years and has accumulated well over 4000 hours plus. As pilot in command, he has flown commercial balloon flights for many years with an impeccable safety record. Like all our pilots, he started his career many years ago overseas before coming to Australia. He liked the place so much, he decided to stay, and fly with Balloons Over Brisbane.
Crew Chief
The Crew Chief manages many balloon operations.  For many years he has been getting up before the birds, breathing in the daybreak air and 'chasing' Hot Air Balloons. He also makes sure there's plenty of Breakfast Goodies for one and all.  Outside of crewing for Balloons Over Brisbane he loves to play Golf, is an amateur Movie Critic and a happy 1 or 2 day B&B frequenter.
Balloon Pilot
Has been a balloon pilot for more than 15 years;  He became involved in grade 2 with a transport assignment; as his Dad suggested hot air balloons. His school assignment turned into somewhat of an obsession, so much so he is now a hot air balloon pilot and enjoys Hot Air Ballooning flights regularly for Balloons Over Brisbane.
Balloon Crew
Became involved with crewing through Andrew.  Like Andrew has been crewing for the past 15 years or so.
Balloon Crew
Started crewing some years ago.  He loved the work so much he has been crewing more and more and is a part of our permanent weekend crew.