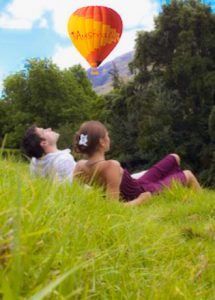 Call us & buy a Balloons Over Brisbane Gift Voucher or get an instant Ticket and Gift Voucher Certificate to download by completing your purchase online here.
Our great selection of Gift Vouchers are valid to use any day of the year that suits you providing you book well ahead to get the date you want.
Hot Air Balloon Brisbane Gift Vouchers are 100% Transferable and 100% Refundable.
*Subject to our standard Terms and Conditions and Cancellation policies.
The online process is simple and outlined below:
Step 1: Select how many people is the voucher for.
Step 2: Select the voucher template according to the occasion.
Step 3: Type your personalised message to be shown on the Gift Voucher.
You will need to specify the Purchaser's Details including an email address, and the Recipient's details.
Once you have entered in the above details, you can finalise the Gift Voucher by submitting payment via our secure online payment gateway. American Express, Visa, Mastercard are all accepted.



Delivery Method
By default, we will immediately email the live gift voucher attachment to the Purchaser email address. You can then choose to email, send or print off by yourself. As an alternative, you can advise us to email the Gift Voucher directly to the Recipient or post to them in a particular way.
Our range of Gift Vouchers includes Valentine's Day / Engagement / Christmas / All Occasion / Extended Flight / Mother's Day